How to custom IFAK kit in china
If you are reading this article, the chances are that you have been wondering how to customize your own individual first aid kit in China.
The process of creating a custom individual first aid kit is fairly straightforward, this article provides a detailed step on how to get started.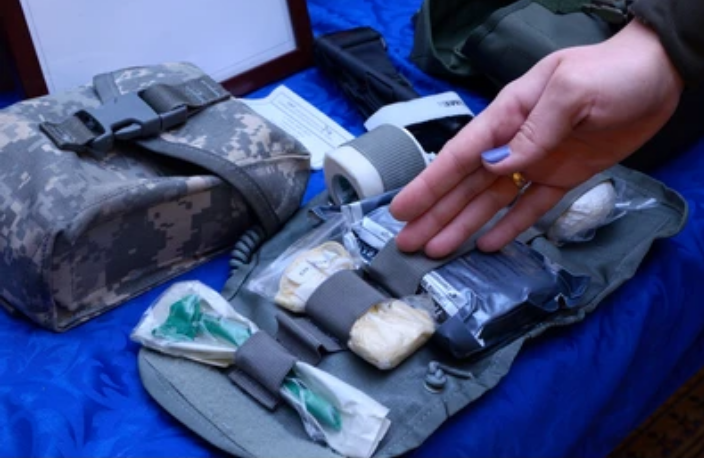 What is an individual first aid kit?
An Individual First Aid Kit, or IFAK for short, collects emergency medical supplies in a specialized pouch.
It's commonly used by military personal and EMTs because it's compact enough to be carried on the person but still contains all the first aid medicines needed to treat common injuries and outdoor travel until help can arrive.
In fact, your very own survival could depend on having one an individual first aid kit for family daily life.
Steps To Custom Your First Aid Kits In China
Confirm the contents inside of IFAK kit first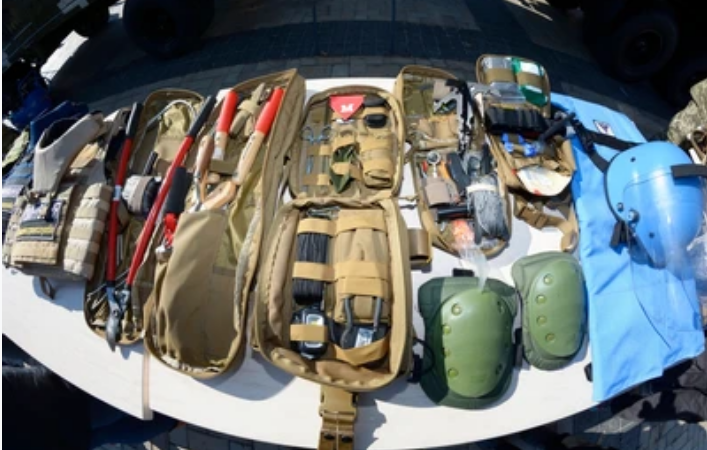 There are many components inside of individual first aid kit pouch. While some individual first aid kits contain so many medical supplies for emergency situations, others contain only a few rescue items. Some of the important items that should be found in your individual first aid kit products include the following:
Bandages (gauze pads, adhesive bandages, Israeli bandage), Medical tape, Butterfly closures, CPR mask, Antiseptic wipes, Alcohol swabs, Ibuprofen & Aspirin, EpiPen (or other allergy medication).
Others are Tourniquet (Combat Application Tourniquet or CAT, SAM Medical Tourniquet), Medical scissors, Tweezers, Safety pins, Duct tape, Sterilized gauze, Nitrile gloves, Goggle shield, among others
Now let's take a look at some of these first aid kit products in more detail and their functions.
Gauze pads can be used to stop bleeding and as padding.
Adhesive bandages are great for covering small wounds.
Butterfly closures are useful for closing larger cuts.
A CPR mask can be used to give mouth-to-mouth resuscitation.
Antiseptic wipes can help clean wounds and prevent infection.
Alcohol swabs can be used to cleanse the skin before injection or to disinfect tools.
Ibuprofen & Aspirin are pain killers that can also help reduce fever.
EpiPens can be used in case of anaphylactic shock (a severe allergic reaction). A
Snake bite first kit can be useful if you are travelling for camping in an area with snakes.
And finally, a tourniquet can be used to stop bleeding from a wound and support the limb.
Keep in mind that you don't need to include or carry all of the items in your emergency medical supplies.
The idea is to make a first aid kit that works for you and the environment you are moving or operating.
Choose the empty IFAK kit which can fit a lot of medical first aid supplies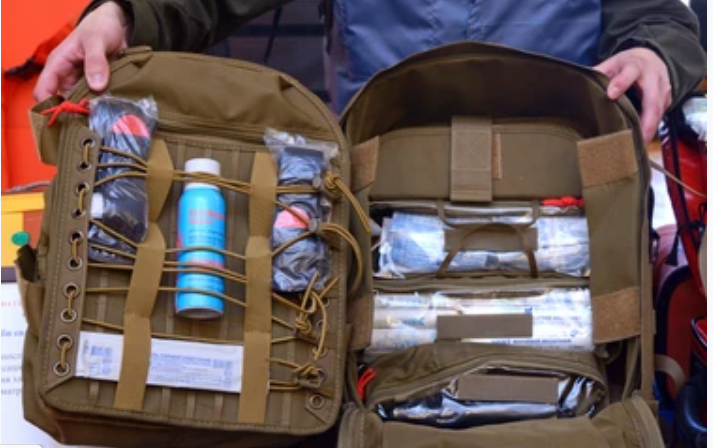 When it comes to customizing your individual first aid kits, there are a few things you need to take into account.
The first is deciding on the size of your empty individual first aid kit. You want to make sure that the first aid kit is large enough to hold all of the supplies you need, but not so large that it becomes cumbersome to carry during emergency situations.
Once you've decided on the type and size of your first aid kit, you need to decide on the bag or container that will hold your supplies. There are many different types and sizes of empty bags to choose from, so you should be able to find one that will fit your needs.
Usually the common individual first aid kit has three compartments: exterior compartment, middle compartment and inner compartment with zipper inside.
The size can be customized according to requirement; usually 20*25*5CM or 24*30*5CM are the two most popular sizes. On the exterior lid, there are velcro patches that can be applied with unit names or flags.
There are two velcro patches on each side of the middle compartment, which can be customized with medical items for specific missions.
Also, it's easier to drill additional pockets that were needed for more emergency medical supplies, although an extra patch is needed to hold them in place due to the pressure of opening and closing the first aid kit.
On the inner zipper compartment, there is one large pocket with no divider. This design aims to keep emergency medical supplies well organized by category without too much digging during critical moments.
The exterior compartment is a good place to store items like flashlights, multi-tool, cigarettes, lighter, etc. The middle compartment contains the gauze, shears and Israeli bandage. And the inner compartment stores the chest seal, NPA and gloves.
Sampling Your Custom Individual First Aid Kits
Before you can produce your custom individual first aid kit for family daily life, you need to note that your first aid kit is a medical device and needs to be checked and tested before being distributed out.
This step is known as final sampling and ensures that your finished product matches the requirement of what you initially wanted to create. For example ask the following questions. Does every component fit perfectly? Is there anything loose or misplaced? Does everything close securely?
When properly done, final sampling provides a protective mechanism from having your first aid kit rejected by an end customer—because what good is a product if they cannot use? So don't skip on final sampling!
Ordering
When ordering your individual first aid kits, it is "best" to deal with first aid kit manufacturers or suppliers who already has a good reputation. This could be via word-of-mouth or even other online reviews/advertisement(s).
Reputable suppliers or first aid kit manufacturers should have a website and e mail address listed.
Some suppliers might show a little more leniency and grant you easy access to first aid kits product samples before placing an order since they care about their brand name and want to ensure their customers' satisfaction.
However, if the first aid products you're looking at are just too good to be true (price), then there is most likely a reason why. If you cannot find any contact information on the first aid kit manufacturers or suppliers website, please do not hesitate to ask them via e mail or telephone.
If they are unwilling to provide you with their e mail and contact information, this might be some sort of scam.
However, plenty of good first aid suppliers online would be more than happy to provide you with their e mail and contact information just for peace of mind and convenience of the business relationship.
You can also try sending them message through Alibaba's messaging service, where message will be logged by individuals known as "Gold Suppliers". They should still answer your messages even if they decline your invitation, so you should still get an idea about whether this supplier is reputable or not.
As long as you know what to look for, you can easily avoid suppliers who are not credible.
Before placing an order, ask the first aid supplier whether they have this emergency medical supplies well stocked.
If they don't have it in stock, ask them how long it will take for them to restock the first aid kits. Then, check out their website to determine when was the last time they were able to restock.
Again, do NOT place an order if they don't have the first aid products in stock as the delivery time is unpredictable and very likely that nothing will come off your order.
The next thing you might want to check out before even creating a purchase order request is the quality of their first aid products photos.
On most general e-commerce websites such as Alibaba or Amazon, there should be a section to post photos of their first aid kits and emergency medical supplies.
If you are not satisfied with the quality of the photos, ask them to take better photos. Keep in mind that if they do not have any professional equipment available for taking high-quality photos, it might be advisable to look elsewhere for your purchase.
In addition, there is no harm in asking for additional information such as MSDS (material safety data sheets) or other certifications used by the supplier when manufacturing these first aid kits.
Production
Producing individual first aid kits can be done successfully with the right know-how. Here are a few tips to help you get started:
The most common way to produce individual first aid kits in China is through contract manufacturing. In this process, a company in China will manufacture the individual first aid kits according to the specifications provided by the customer.
This is a relatively easy process, and suppliers in China are experienced at producing various first aid medicines according to customer specifications.
In addition, customizing an already manufactured first aid kit and rebranding it as your own 'private label' product is a good choice and method of producing individual first aid kits in China.
In this process, the first aid kit supplier will disassemble an already manufactured item from its packaging and begin reassembling it according to the specifications provided by their customer.
This process does not require any advanced technical knowledge but can be more time consuming than contract manufacturing as an additional step is required before beginning production.
If your company already has existing relationships with individual first aid kits suppliers, you could consider producing individual first aid kits kits in China through licensing.
In this process, the Chinese manufacturer will produce your individual first aid kits at their facility, but you retain all rights to the intellectual property associated with the design.
While this method takes more effort to establish than contract manufacturing or customizing, it can provide long-term benefits to any company seeking a business relationship in China.
If you are interested in an IP licensing strategy for your individual first aid kits, there are so many suppliers that can be of help.
Shipment
When looking to ship custom individual first aid kits for sell from China, you must take note of a few things . By following these steps, you can ensure that your kit arrives safely and on time. The first step is to find a reputable shipping company.
First, you must decide on a shipping method for your first aid medicines. You can either choose to use airfreight or opt for express shipping.
Express shipping, as the name suggests, is a quick and efficient way to send goods. First aid kit shipped via express tend to be delivered within a few days, sometimes even within 24 hours.
This is done by using a combination of ground and air transportation. However, express is not always the best option for smaller items like individual first aid kit because it is more expensive than standard ground shipping.
Airfreight is a less expensive way to send large packages over long distances. Package rates are based on weight and size, so it is important to be aware of the dimensions and weight of your shipment before choosing this method. Depending on the distance between the two points, it can take anywhere from one to four weeks for air freight to be delivered.
Both express shipping and air freight have their advantages and disadvantages, so it is important to consider all factors before deciding which method to use. Ultimately, the choice of shipping method your emergency medical supplies will depend on the shipper's needs and the budget available for shipping expenses.
Furthermore, when selecting a shipping company, be sure to consider their experience with shipping emergency medical supplies. Unfortunately, many companies do not have the necessary experience or knowledge to properly handle medical shipments and rescue items.
Once you have selected a shipping company, you will need to provide them with the necessary information about your individual first aid kits.
This includes the dimensions of the package, as well as its weight. It is also important to include a list of the contents of the individual first aid kits for first responders, along with their respective quantities. This will help the shipping company to properly prepare your shipment.
When preparing your shipment in China, you must ensure that it is properly packaged. If not packaged correctly, there is a good chance that parts of your individual first aid kit will be damaged during transit.
Your package must also be labelled accordingly to avoid any confusion with customs officials in destination countries; this includes labelling the contents of the package and their quantities.
The outside of the box should indicate whether it contains dangerous goods or not: if so, the special protocol will need to be followed by both yourself and the shipping company handling your cargo.
Otherwise, it can likely be shipped as normal freight/consignments; check with your local customs agency for specific information on how dangerous goods are handled in your country for more details.
Before the kit is shipped, it must be inspected by a customs broker. This step ensures that everything is in order and ready for transit.
If any issues are found with your kit during an inspection, they will need to be addressed before your shipment can continue.
After passing inspection, your first aid kit will need to clear customs before being released to the shipping company. In many cases, clearance from customs can take up to 48 hours; this step may also require payment of taxes or fees before you can receive final confirmation that the shipment has been cleared.
If clearance cannot be obtained within 96 hours of arriving at the destination port, then the shipment will automatically be sent back to the origin country. This should only occur in cases where customs deem an attempt to smuggle prohibited items into the country.
You can ensure that your custom individual first aid kit arrives safely and on time by following these simple steps. In addition, by working with a reputable shipping company and ensuring that your first aid kit is properly packaged and labelled, you can avoid any potential issues during transit.
Conclusion
Building a custom first aid kit for family daily life doesn't have to costs your a lot of headache. This article has provided in detail how to get started with creating a custom individual first aid kit. Most especially, it is vital to find a find a reputable supplier of quality emergency medical supplies.
At the moment, there are many suppliers in China which makes it difficult to know who provides the best service and product for your needs. However, Yeye Tactical has been making customized IFAK kits for over 10 years now, so you'll know that we provide reliable products with excellent customer service and also help you save money.
Contact us today through our e mail info to get started on creating an IFAK kit tailored just for you!